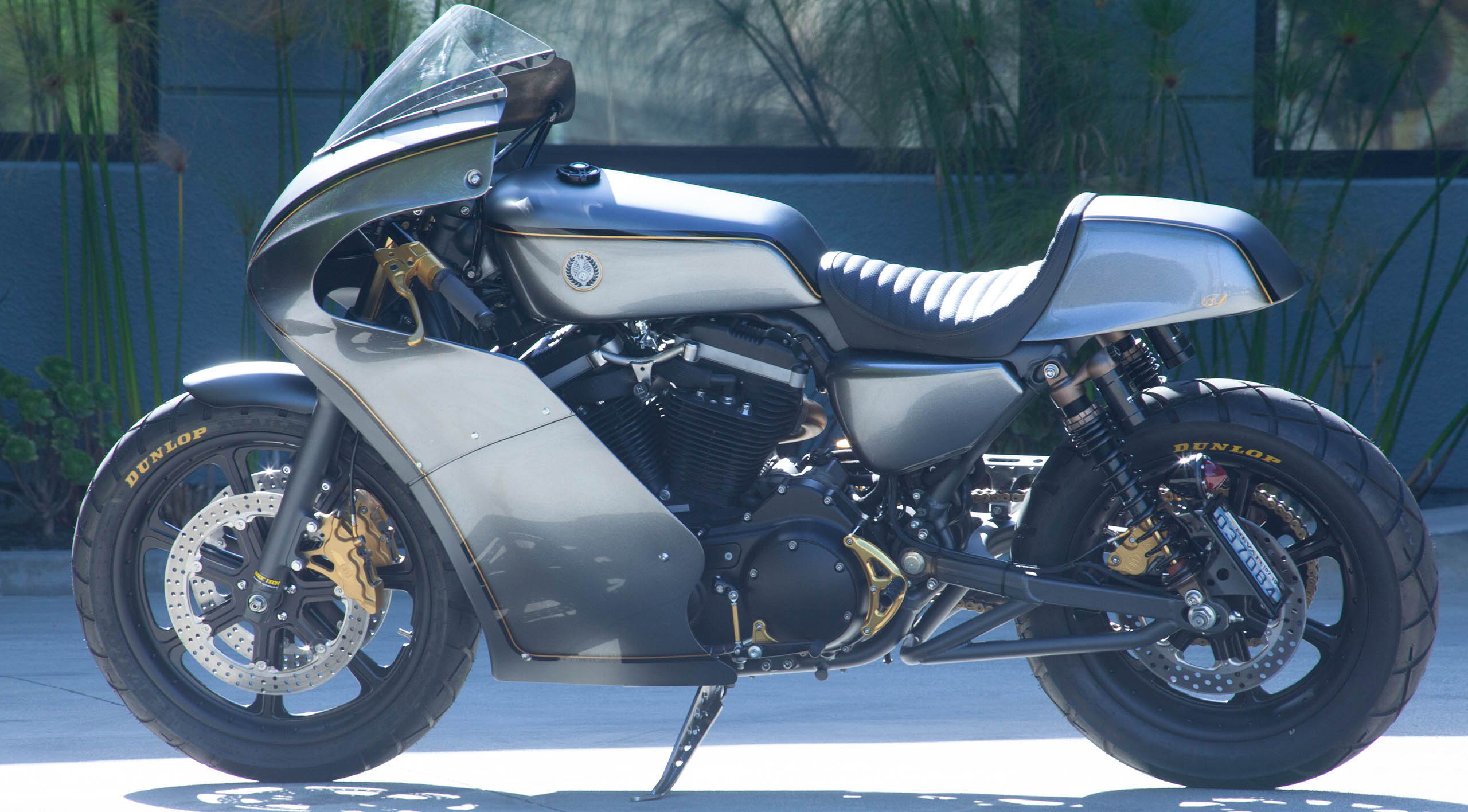 Assembled, tested and delivered. Hope you like it as much as we do.
As the bits and pieces fall together, the Racester Sporty comes to life. Painted bodywork came back from Airtrix today, allowing us to get this machine together in time for tomorrow's Born Free show at Oak Canyon Ranch. A bit of help from our local Harley Dealer, Westminster H-D, was appreciated to link the new ECM and let her breath fire. Computers on carbureted motorcycles seems a bit funny to us but… what do we know? Swing by the Bell Helmets booth tomorrow to see her in person. Event info below. For all of you who can't make it, we'll post complete photos of the bike next week.
Oh by the way, the Born-Free 4 show is tomorrow at Oak Canyon Ranch in Orange County, CA. It's a FREE show featuring some of the best vintage customs.We'll be there with our friends at Bell Helmets so keep an eye out for us as we will be showcasing this bike, the Pastrana Sportster, and a surprise or two!
We got the frame, trussed swingarm, engine covers and other bits back from Olympic Powdercoating. Their quality always impresses us and this rough textured, matte gray finish they call "Charcoal T" looks amazing. We were so excited that we immediately wanted to drop the motor in and start bolting her up but, remembered that we forgot to put in our fresh

DP clutch kit

. We made a quick job of that, then threw on RSD Velocity Stack and Nostalgia Ignition Cover and got the powerplant into the chassis.
The header is Vance & Hines from a XR1200 Widow exhaust system which is made from lightweight, thin-wall .035" Stainless Steel. We modified the collector and made our own mini-megaphone muffler to finish it off. We also machined up some prototype rear-set foot controls and a modified one of our Softail Tracker tag brackets to mount off of the Sportster lower shock bolt. The rear sub-frame is a bolt-on piece that supports the tail section. We tried to think "bolt-on" when building this bike rather than chopping it all up. Technically speaking, this is a stock bike that could be built in anyone's garage with a regular old set of tools. We have a feeling that some of these new parts quite possibly be made available for everyone to purchase in the future. Hint-Hint-Wink-Wink!
Our fully faired sportster project is something we have been wanting to do for a while. Of all the builds we've done we've never put a fairing on a Harley. This will be our first and we have grown to really like it. There are many difficulties to be faced when getting a Sportster "faired". Mainly there's the height of the stock sporty and the front fork. Most faired bikes are bit shorter in the front end so we've had our work cut out to make it look right. There's also the fairing choice. Rather than go with an old dustbin fairing or a classic HD KRTT road race fairing we want to something a little more modern that still had a taste of vintage. Our Super Single Fairing kit seemed to fit the bill perfectly. We used the Upper and lower and modified it to fit. Made mounts, cut it up a bit and glued her back together. We're still contemplating a few of the lines so she doesn't look like her nose is in the air, but we'll get to that. Stainless exhaust has been routed using the Vance and Hines XR pipe as a base and we are off to the races so they say.